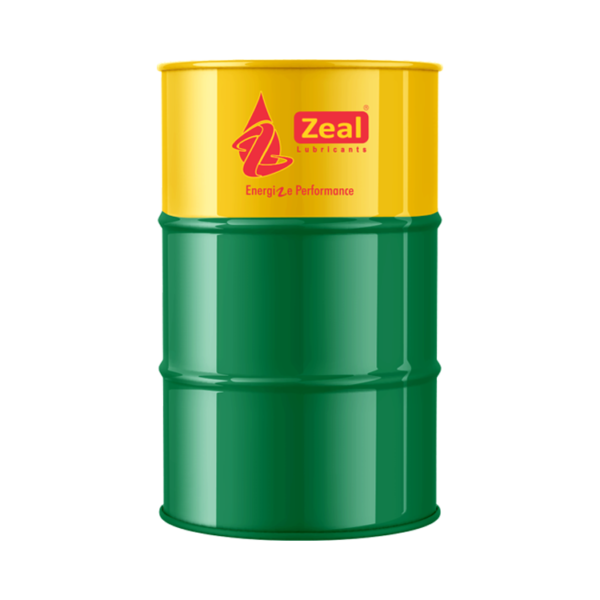 Zeal Turbo T series are high-performance zinc free turbine oils formulated with high quality hydro treated base stocks and advanced additive technology, to provide exceptional equipment protection and reliability in most non-geared steam turbine systems and low to moderate duty gas turbines. They are designed to demonstrate excellent oxidation stability, resistance to sludge & varnish formation, protection against rust & corrosion, low foaming and excellent demulsibility.
Product Description & Specifications
Features & Benefits
Excellent hydrolytic, thermal & oxidation stability prevents varnish & sludge formation and helps in extending life of oil and filter.
 Excellent water shedding property reduces sludge build up and improves efficiency of timing valves.
 Excellent air release & anti-foaming characteristics, avoids cavitation, noise and eratic operations.
 Excellent load carrying properties reduces wear in bearings and gears.
 Excellent protection from rust and corrosion of multi-metallurgy turbine components.
Specifications
Zeal Turbo T series meets or exceeds following International and Builder specifications:
 DIN 51515 Part-1
GE GEK 28413A
 DIN 51517 Part-2      
JIS K-2213 Type-2 w/additives
 Siemens Power Gen TLV 9013 04      
Alstom Power Turbo HTGD 90-117
Applications
 Zeal Turbo T series are suitable for use in Non-geared industrial steam and gas turbines operating under low to medium severity conditions
 Suitable for use in heavy duty industrial compressor applications lubricated by centralized systems.
Typical Characteristics
| Zeal Turbo T series | Test Method | Units | 22 | 32 | 46 | 68 | 100 |
| --- | --- | --- | --- | --- | --- | --- | --- |
| ISO Viscosity Grade | ISO 3448 | – | 22 | 32 | 46 | 68 | 100 |
| Density @ 15 0C | ASTM D 4052 | gm/cc | 0.870 | 0.870 | 0.878 | 0.880 | 0.887 |
| Viscosity @ 40 0C | ASTM D 445 | cSt | 22.1 | 32.4 | 46.8 | 68.9 | 100.8 |
| Viscosity @ 100 0C | ASTM D 445 | cSt | 4.50 | 5.38 | 6.78 | 8.72 | 11.15 |
| Viscosity Index | ASTM D 2270 | – | 118 | 98 | 98 | 98 | 95 |
| Pour Point | ASTM D 97 | °C | -24 | -18 | -18 | -15 | -15 |
| Flash Point (COC) | ASTM D 92 | °C | 224 | 224 | 230 | 234 | 246 |
| TOST, Hours to 2 NN | ASTM D 943 | Hours | >10,000 | >10,000 | >10,000 | >10,000 | >10,000 |
| Copper Strip Corrosion | ASTM D 130 | – | 1A | 1A | 1A | 1A | 1A |
| Rust Characteristics Proc B | ASTM D 665 | – | Pass | Pass | Pass | Pass | Pass |
| Foam Seq I,II,III | ASTM D 892 | ml/ml | 0/0 | 10/0 | 10/0 | 10/0 | 10/0 |
| Demulsibility, 40/40/0 | ASTM D 1401 | min | 5 | 10 | 10 | 10 | 15 |
The above figures are typical of blends with normal production tolerance and do not constitute a specification