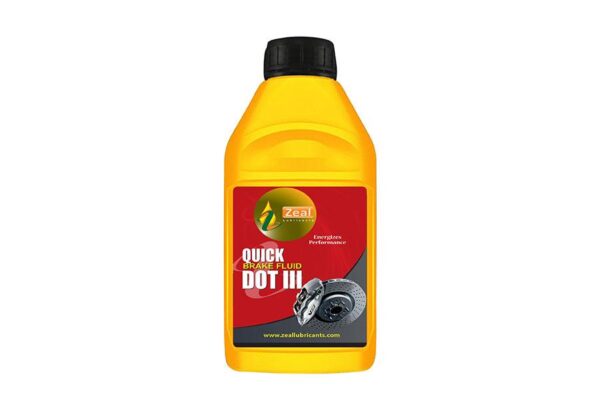 ZEAL QUICK BRAKE FLUID DOT 3 are supreme performance hydraulic brake fluid based on polyethylene glycol ether technology to provide a high level of brake and clutch performance in automotive and commercial vehicles. They are designed to meet or exceed the general requirements of most builders of automotive disc, drum and anti-skid brake systems and clutch systems .
Product Description & Specifications
Features & Benefits
 High boiling point – safe and consistent brake performance under high braking pressures.
 Minimum swell on rubber components – reduced leakage and loss of brake fluid.
 Excellent corrosion protection – improved life and reliability of multi-metallurgy brake system components.
Specifications
Zeal Quick Brake Fluid DOT 3 meets or exceeds following International and Builder specifications:
 FMVSS 116 DOT 3
 SAE J-1703
 ISO 4925 Class 3
Typical Characteristics
Typical properties vary depending on the supplier of the fluid. Typical properties for brake fluids include: Density at 20°C, boiling point, pH value, water concentration and viscosity @ 40°C & 100°C. Certificate of Analysis could be provided upon request.
Application
Zeal Quick Brake Fluid DOT3 is suitable for use in applications where disc, drum and anti-skid braking systems are used in vehicles requiring DOT 3 level performance. They can be used with following recommendations:
 Use concentrated form of Brake Fluid, drawn previously from an unopened or well sealed container.
 Always seal the container immediately after use, as the Brake Fluid absorbs moisture from the atmosphere quite rapidly, which reduces service life significantly.
 Never reuse used/drained brake fluid.
 Brake fluid can affect the vehicle paintwork, so remove spills immediately without rubbing.
 Brake fluid should be changed from the vehicle every two years or 40,000 Km (24,000 Miles).
 Check OEM Manual for further details.